Tweets By Fans Losing Their Cool Over the Dixie Chicks Tour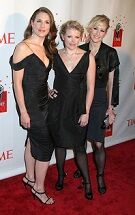 The Dixie Chicks have announced they will tour North America for the first time in 10 years! How does this sound? Some fans are going crazy...
Check out tweets:
Every time I think about the fact that I'm going to see @dixiechicks I'm like... How can I possibly wait til May? pic.twitter.com/4OvXfZYyQm
— Amy (@amysings10) November 16, 2015
1 American, 1 European 👉 2 BFFs meeting up in London town for the epicness that's @dixiechicks & to FINALLY sing #GoodbyeEarl LIVE #DCXMMXVI
— caro (@sleepmyonelove) November 16, 2015
ME AT THIS EXACT MOMENT OMFGGG @dixiechicks #DCXMMXVI Can't wait!!!!! pic.twitter.com/6hu55lEcXu
— Hunter (@h_bryniarski) November 16, 2015
Made 8 other people reschedule a meeting for tomorrow morning so I can be online for the @dixiechicks #DCXMMXVI presale. Excited much?!
— Emily Fowler (@Ladyaero3) November 16, 2015
You've not only made my day @dixiechicks, but my entire 2016. Ready, ready, ready, ready -- ready to run...to see y'all perform! #DCXMMXVI
— Cody Permenter (@somecody) November 16, 2015
Me when the @dixiechicks announced their US tour #DCXMMXVI pic.twitter.com/Nx5uWKrJOk
— Em (@g2gfangirl) November 16, 2015
Praise the lord and pass the ammunition!!! ok well not ammunition just pass me my wallet so I can buy tickets #DCXMMXVI @dixiechicks
— Kyle Brooks (@Taithleach) November 16, 2015
#DCXMMXVI is real? I'm in utter disbelief! #countrymusic Happy Monday!
— Kat Matt (@LAKatMatt) November 16, 2015
.@dixiechicks on repeat ALL DAY to celebrate their #DCXMMXVI World Tour! 🙌🏼🙌🏼🙌🏼
— Carson Blackwelder (@cblackwelder) November 16, 2015
I knew I felt a blessing in my spirit! I've been patiently waiting for the @dixiechicks to reunite stateside, and LOOK AT GOD!!! #DCXMMXVI
— Sorta Marge (@agendadebonaire) November 16, 2015
This has just made my day/month/year. 2016 can't come soon enough! #DCXMMXVI https://t.co/iSYpWtUjSE
— Debbie (@debbie25lw) November 16, 2015
My face when i found out that the @dixiechicks are going on tour again #DCXMMXVI pic.twitter.com/26oUT79tX5
— Flickchen (@Flickchen) November 16, 2015
I hope a lot of parents take their kids to see the @dixiechicks so they can hear what true country music sounds like. #DCXMMXVI
— Cassandra (@CassandraMcKown) November 16, 2015
@dixiechicks #DCXMMXVI pic.twitter.com/YReQMyUh1L
— riely (@Riely_Pickos) November 16, 2015
It sure the hell feels like it!!!! @amess_mc #DixieChicks #DCXMMXVI pic.twitter.com/i6hPUqg46t
— Trent Meister (@tre_meist) November 16, 2015
An actual vid of me celebrating the big @dixiechicks #DCXMMXVI news and def not an Elaine gif pic.twitter.com/r71K2dnJtH
— lindsey blue (@lindseyblue) November 16, 2015
@dixiechicks I had way more than a 140 Characters, LOL. #DCXMMXVI pic.twitter.com/NK9m0cILKV
— Susan R (@tinkfly88) November 16, 2015
The @dixiechicks are touring America again. #DCXMMXVI pic.twitter.com/WQvwk8aLLf
— Lauren Pate Williams (@LPW33) November 16, 2015
When I was 6 years old, I won @dixiechicks tickets on the radio & mom wouldn't let me go. WELL MAMA NOW I'M 21 & YA CANT STOP ME. #DCXMMXVI
— Emily Sauers (@emilyynicole_) November 16, 2015
the @dixiechicks to the world rn #DCXMMXVI pic.twitter.com/wHe5ukNTyF
— Danika Gallup (@dgallup20) November 16, 2015
I don't mind that they were Taking The Long Way. I'm Ready to Run from my Wide Open Spaces in June because @dixiechicks ARE BACK! #DCXMMXVI
— Kerstin Baker-Ash (@bakerash) November 16, 2015
THIS IS NOT A DRILL. I'VE LOVED THE DIXIE CHICKS SINCE I'VE HAD EARS. 🚨🚨🚨 #DCXMMXVI
— Jamie Smith (@samiejmith) November 16, 2015
tuition or @dixiechicks tickets?¿ TICKETS. 😅😍🙌🏻😂 #DCXMMXVI
— Sarah Ricketts (@ricketts_sn) November 16, 2015
@dixiechicks all the Dixie Chicks fans woke up with tears of joy and are now all doing this. THEIR BACKKK #DCXMMXVI pic.twitter.com/7yLrH51kbJ
— tori leighbody (@torileighbody) November 16, 2015