Luke Bryan Defends Outlaw Country Comments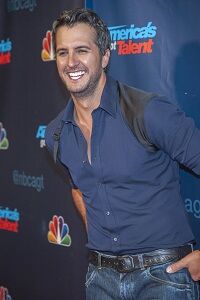 Luke Bryan is backtracking on some comments he made about his opinion of the outlaw country genre. In an interview with "Hits Daily Double," the singer said he doesn't consider himself a part of that musical subset because he doesn't "do cocaine" and doesn't know anything about "laying in the gutter, strung out on drugs."
He specifically mentioned Willie Nelson, Merle Haggard and Waylon Jennings. Luke took to Twitter to say that "speaking against any artist" is "not [his] style." He added that he considers Willie, Merle and Waylon as "musical heroes."


Waylon Jennings daughter-in-law has offered an angry response to the comments Luke Bryan made last week.
Here's what she wrote on facebook:
To Luke Bryan :

I hope your family members are proud of you for using your WORLDWIDE platform to take the time to disrespect my Father in Law. You have managed to PROVE to the world your true self.
Albeit that Waylon's drug use is well documented and something he overcame, I assure you, he was never "laying in a gutter." At the peak of his career and drug abuse, he was making history and setting records. He, single handedly paved the way for you and everyone else to make music the way the artist wanted to make it. I'm not willing to waste my time to debate your "music" and / or the fact you have zillions of fans – I will however, not sit back and be quiet when you have so blatantly disrespected Waylon.

I recall the time I was at the Grand Ole Opry to visit with Andy Griggs, you were making your debut appearance. My friend that was with us had just seen your video. As we stood at the side of the stage, Jeannie Seeley was talking to us and you walked over to introduce your self to her and told her how much you admired her, she in turn introduced you to myself and my husband. I almost got a cavity because of the sweetness of the words coming out of your mouth – you told us Waylon was one of your musical heroes. You went on and on and on.
This is not about music, Outlaw Country, whatever – it's about DISRESPECT.
You are a platinum, disrespecting, no singing, whining, grasping for media attention, a–hole. Use your platform for something good, instead of bashing the LEGENDS that came before you.
(Source: Taste of Country)