ICYMI: Brooks & Dunn Exhibit Opens At Country Music Hall Of Fame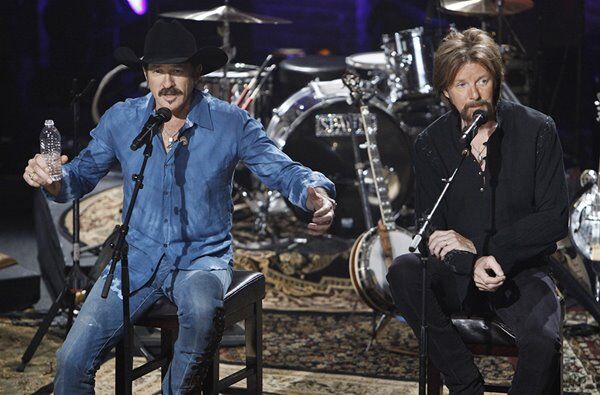 In case you missed it, Brooks & Dunn were on hand late last week celebrate the opening of their new Country Music Hall of Fame exhibit. "Brooks & Dunn: Kings of Neon," celebrates the duo's successful career, with the exhibit to set to run until July 19th.
During a preview for the exhibit Kix Brooks talked about the first time he was introduced to his partner. "We'd both been around the block for a long time but we were also pretty broke, and when somebody throws any kind of opportunity in front of you in the music business, you generally take it and try to make the best of it, " he said. "That same week we met, we wrote our first two number one records."
The exhibit features a variety of memorabilia from Brooks & Dunn's career, including a boatload of awards, including GRAMMYs, CMA and ACM awards, as well as guitars from their personal collection, on-stage outfits, handwritten drafts of hits like "Red Dirt Road" and "Only in America" and more.
"It's really mind-boggling to see that in one place," Kix said after checking out the exhibit. "It's all a byproduct of this amazing experience that we got to have."
Source: Sounds Like Nashville