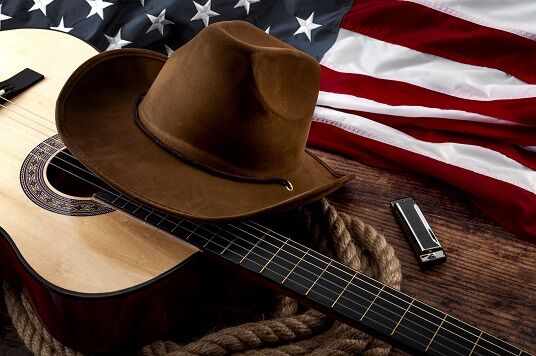 The Full Story:
Danielle Bradbery launches NFT: Danielle Bradbery is the latest artist to launch her own NFT. Fans who purchase the NFT will gain access to limited edition content, and unreleased material in connection with her new single "Stop Draggin' Your Boots." There are currently 400 digital collectables available for purchase. Click here for more info.
Brooks & Dunn pull Miranda Lambert to the stage in Nashville: Brooks & Dunn brought their "Reboot" tour to Nashville this weekend, where they coaxed Miranda Lambert to the stage to join them for a song. "Somebody said Miranda Lambert was here tonight," Ronnie Dunn told the crowd during "Cowgirls Don't Cry." "We didn't rehearse this, so she's not gonna show up. Miranda, you back there?" Eventually Miranda turned up, joking, "I was back there getting drunk, enjoying the show." She then joined them for the chorus of the song.
'I can't hear shit!! I was back there getting drunk enjoying the show!!' Miranda joined Brooks and Dunn onstage at Bridgestone last night and it was CHAOS hahahahttps://t.co/iTRiEjl5hZ pic.twitter.com/vjrtbQZE8F

— Miranda Lambert Fan (@ranfancentral) June 19, 2022
Gwen Stefani surprises Blake Shelton with a cake on stage: Blake Shelton celebrated his 46th birthday this weekend, and his wife Gwen Stefani surprised him on the big day. During his performance at Country Summer Music Festival in Sonoma County, California, Gwen came out with a cake and got the audience to sing "Happy Birthday" to him. Gwen also shared a special message to Blake on Father's Day, writing, "happy father's day @blakeshelton. we all love u sooooo much god really gave me you for the ups and downs."
Thank y'all for all the birthday wishes this past weekend and for y'all who came out to party at Country Summer!!! What a damn time we had.. also.. I love you @gwenstefani!!!! pic.twitter.com/yNWCWC0Lwv

— Blake Shelton (@blakeshelton) June 20, 2022
Oak Ridge Boys Joe Bonsall gives another health update: As we told you, Oak Ridge Boys Joe Bonsall missed some shows this weekend, telling fans he has some "health issues." Well, now he's shared a little more about what he's been through. "I could have easily died last weekend but God is not through with me yet …," he tweeted, "I am home now after 6 days in the hospital battling pulmonary embolisms …," noting, "my recovery could take awhile … thanks for the prayers and love shown!! I am on the better side now… GOD IS ABLE!"
Kane Brown surprised wife on 30th birthday: Kane Brown's wife Katelyn celebrated her 30th birthday this weekend and he surprised her with a birthday party. The singer gave fans a peek at the big day on his Instagram Story, sharing video of them getting ready, driving to the bash and then the big surprise. "Last night was magical," she shared on social media, alongside a photo of the family. "Thank you [Kane Brown] for one of the best nights of my life."
Jennifer Nettles reveals dad's death: Jennifer Nettles revealed on Father's Day that she lost her dad about a month ago. "I'm often private about certain sacred pieces of my life and I share them as, and if, I am ready. My daddy, Beamon Nettles, died last month on May 14th," she shares. "He was a precious, quiet soul who made his way gently in the world. And it is so strange and unreal that he is not here." She also shared a cover of Merle Haggards "The Way I Am," sharing it "was his favorite song."
View this post on Instagram