Carrie Underwood Has A Near Fall On Stage, Is House Hunting In New York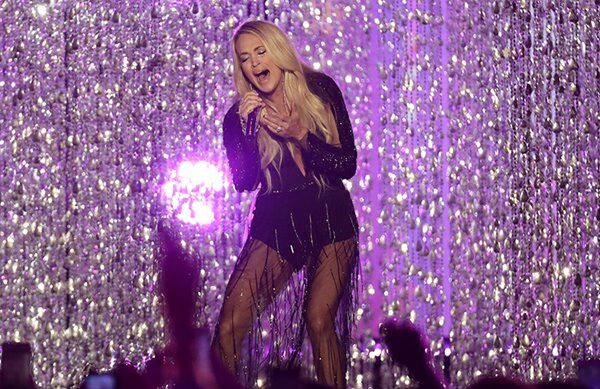 Carrie Underwood had a near fall on stage last week during her "Cry Pretty 360" show in Louisville, Kentucky
Video posted online shows Carrie running down her stage giving high-fives to her band members, and then tripping. Luckily, she tripped right into her guitarist Chad Jeffers, who caught her.
"Our stage can be a dangerous place...especially in heels!," Carrie shared in response to the video. "We all put our lives on the line night after night for the sake of the music!!! 😂😂😂 Thankfully, @ChadJeffers was there to catch me!" Check it out to the right.
ONE MORE THING!

It looks like Carrie may be looking to purchase a place in the Big Apple. The

New York Post

reports she was spotted house hunting in Manhattan, checking out a $12 million town house in Gramercy Park. The six-bedroom property, which was just renovated, features a large parlor living room with wood burning fireplace, an open kitchen, a living room/media room, 30-foot garden, rooftop terrace and more.
Our stage can be a dangerous place...especially in heels! We all put our lives on the line night after night for the sake of the music!!! 😂😂😂 Thankfully, @ChadJeffers was there to catch me! https://t.co/OXed9RIOjL

— Carrie Underwood (@carrieunderwood) October 18, 2019

Source: Carrie Underwood