Brian Kelley Talks Inspiration For Solo EP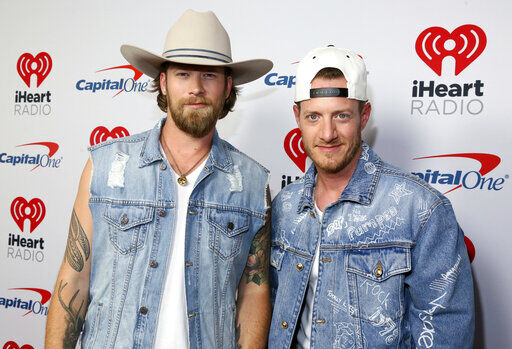 Florida Georgia Line's Brian Kelly just released his new solo EP "BK's Wave Pack," and he tells "People" that turning 35 last summer made him realize the time was right to venture out on his own.
"That was a big moment and turning point for me creatively," he shares. "I started to really zoom in and focus on me and what I wanted to say and how I wanted to sing."
BK says after FGL finished their fifth album last May, he "took off a couple months to do some soul searching," and the downtime he spent with his wife Brittany inspired the songs. "What I was wanting to do with this project was make it me and make every single word matter," he says. "I'm not going to sing something that's not true or that's not me."
He says of the songs, "I'm really just singing about the life that we're living and what things that I love," noting "my wife is pretty much in every song."
As for wife Brittany, Brian shares, "She's my biggest fan and just my biggest support," adding, "She's really pushed me and challenged me and supported me. I couldn't be more in love with her and happy."
ONE MORE THING! To celebrate the EP, Brian announced he's issuing limited-edition NFTS, which will provide fans with "exclusive access to special perks down the road." Only 50 of each NFT is available.

Click here

for more info.
Source: People