6:00 PM on Saturday, September 2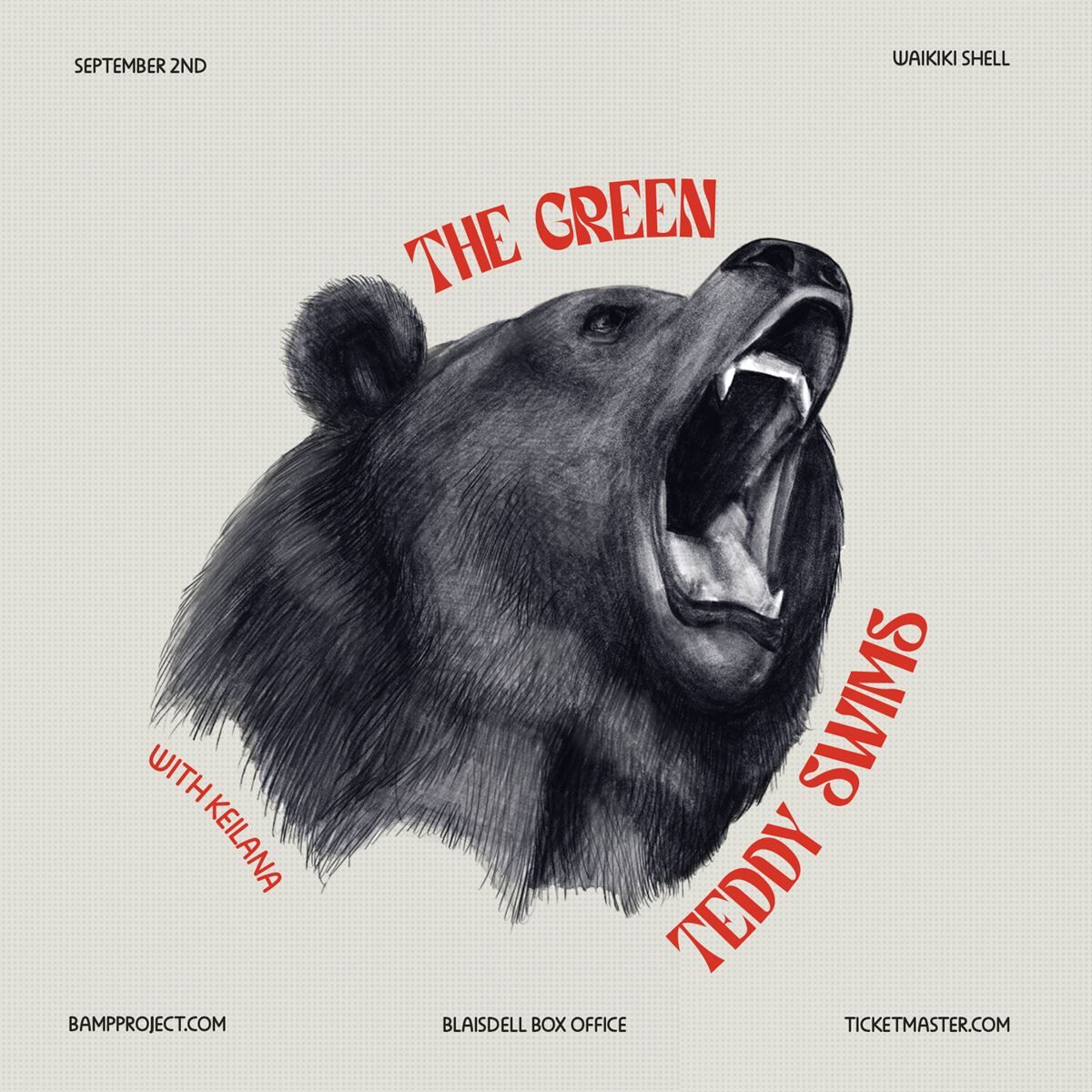 BAMP PROJECT PRESENTS
THE GREEN
with special guests
TEDDY SWIMS & KEILANA
SATURDAY, SEPTEMBER 2, 2023 | WAIKIKI SHELL
Oahu tickets go on sale to the General Public on Friday, April 28, 2023 at 10:00 AM HST
HONOLULU, HI — (April 20, 2023) – BAMP Project presents The Green with Teddy Swims & Keilana performing live on Oahu at the Waikiki Shell on Saturday, September 2, 2023, and on Maui at the Maui Arts & Cultural Center on Sunday, September 3, 2023. Both shows welcome all ages.
Music has been a blessing since the beginning for the humble members of The Green. It is only by looking into the past that one can fully grasp the immense accomplishments and unparalleled journey for a group of musicians from the small island of Oʻahu. Countless miles of touring and six studio albums have led them to become recognized as ambassadors of Aloha, helping represent Hawaiian people and culture to the world through their craft.
Teddy Swims is a lover. The vocal powerhouse, who merges honeyed soul with raucous rock energy and pleasing pop hooks, writes nearly all his songs about falling in or out of romantic entanglements. "To me, that's just all there is," he says. "You're either making love or crying about it." The Atlanta native, born Jaten Dimsdale, has been tugging at heartstrings since posting a series of covers from his bedroom studio in 2019, which generated hundreds of millions of views and scored him a deal with Warner Records. Teddy changed his focus to introspective originals on 2020's Unlearning EP, garnering praise from American Songwriter, Billboard, and Rolling Stone, who named him an artist to watch in 2021. Soon thereafter, performances on The Kelly Clarkson Show, Today, and The Late Show With Stephen Colbert and opening for Zac Brown Band's Summer arena tour cemented his status as a rising star. 2022 marked a banner year for Teddy with the release of his two latest EPs, Tough Love and Sleep is Exhausting, collaborations with Meghan Trainor, ILLENIUM, MK, and BURNS, performances on Ellen, The Late Late Show With James Corden, and Jimmy Kimmel Live!, and his Tough Love headline world tour. Also in 2022, a snippet of Teddy singing the Journey classic "Don't Stop Believin'" went viral with over 80 million views, and he released the full song and was invited to perform with Journey founder Neal Schon on America's Got Talent. With more than 750 million global streams to his credit, as well as a social following that exceeds 10 million, Teddy's songs of devotion have clearly connected. Part of reaching that audience, for him, is getting to show his love in person. There are always more new friends to bare his soul to. "I'm so excited to meet people and shake hands and hug necks," he says.
Keilana is an award-winning independent Native Hawaiian artist from Honolulu, Hawaii rapidly garnering worldwide attention and success. Best known for her eclectic "one woman band" live-loop performances, her versatile artistry, and as the Hawaiian queen of R&B/soul, she captivates audiences far and wide with her magnetic smile and charisma. She's actively grown across social platforms, proving that she is a dynamic force. Keilana aspires to bridge the gap between mainstream music and Hawai'i by sharing her story and those passed down through generations. This island girl is ready to win the hearts of audiences worldwide and show everyone what she can do.
Details on the Show:
Where: Waikiki Shell, 2805 Monsarrat Ave, Honolulu, HI 96815
When: Saturday, September 2, 2023
Doors: 5:00 pm (All ages)
Show: 6:00 pm (All ages)
Price: $49.50 - $249.50 (plus applicable taxes and fees)
Ticket outlets:
www.bampproject.com, www.ticketmaster.com, Blaisdell Box Office
Tickets on sale Friday, April 28, 2023 at 10:00 AM HST
Location:
Tom Moffatt Waikiki Shell
2805 Monsarrat Ave
Honolulu, HI 96815
Google Map