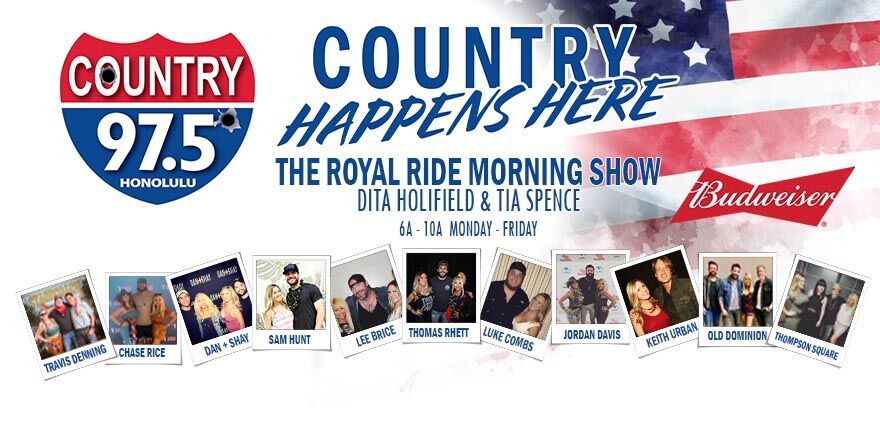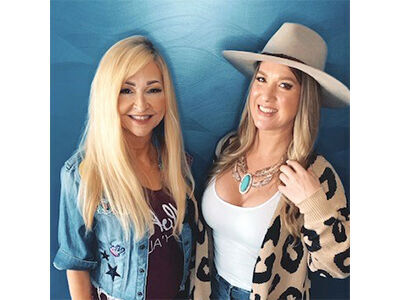 ABOUT DITA HOLIFIELD AND TIA SPENCE:
DITA HOLIFIELD (The Queen of Country)

The name is synonymous with country music in Hawaii. And for good reason, Dita has spent the last 3 decades honing her high-energy sound on virtually every stage in the Hawaiian Islands, from the giant stages of Hawaii's military bases, USO Tours, and the top concert venues of the Neal S. Blaisdell Arena and the Waikki Shell. Not limited to only Hawaii's concert venues, Dita has also toured nationally as the opening act for legendary impressionist, Rich Little, in cities such as: Reno, NV; Las Vegas, NV; Myrtle Beach, SC; and Branson, MO.
All this hard work has paid off and not gone unnoticed by the mainland recording acts that come to Hawaii to perform. Dita and her 6 piece band, Dita Holifield' s Hillbilly House, have been requested to open for such famous acts as: Grammy Nominated Kelsey Ballerini, Chase Rice, kip Moore, Jordan Davis, Toby Keith, Miranda Lambert, Florida Georgia Line, Alan Jackson, Brad Paisley, Willie Nelson, Brooks and Dunn, LeAnne Rimes, Trisha Yearwood just to name a few. Dita Holifield's Hillbilly House newest configuration showcases Hawaii's top millennium country singers, players, and performers. Her latest endeavor includes an acoustic show featuring Hawaii's own Taolia Lave.
A native of Lubbock, Texas, Dita holds a music degree in piano performance and as a singer-songwriter in Hawaii, Dita also enjoys a career as a commercial jingle writer and producer of island contemporary music. Her first CD "Anything Goes" sold over 60,000 copies locally and currently is the General Manager for Salem Media of Hawaii & Country 97.5 in Honolulu. She also owns Hawaii's largest rodeo......Dita Holifield's All American Rodeo and co-hosts the Royal Ride morning show with Tia Spence The Hillbilly Princess under the moniker "Queen of Country" on Country 97 5! Country music is her passion!
Dita enjoys touring but always returns to Hawaii, the place she holds most dear to her heart. With many more concert appearances lined up and her forthcoming EP Project, Dita calls this her most exciting year to date!! Don't miss the opportunity to see and hear Dita Holifield's Hillbilly House when she performs next in your area.
TIA SPENCE (The Hillbilly Princess)
Tia Spence is a true country girl from New York (State). Her father raised her 'Hillbilly' side and her mom showed her the 'Princess' side. It helped her become the 'Hillbilly Princess' she is today. Nothing wrong with being a lil' bit of both.
Tia's love for country music started with her Gramps house. The smell of cigars and busch beer, the sounds of family talks while Dolly Parton, Willie Nelson, George Jones, Johnny Cash, George Strait and so many country greats, playing in the background. Then it was her first cassette tape (yup, just said it), Brooks and Dunn! If that duo wasn't enough, her first concert had her lost for words. Martina McBryde and Aaron Tippin started the obsession for country concerts. The years have just continued on…records to cassette tapes to cd's to downloads to more concerts to research to country radio to a morning show to….the list is endless.
Please Note: 80's rock has always been in there too! Bring on Def Leppard, Jon Bon Jovi, Journey and so many more.
Tia started in the restaurant industry and really has never left. She's been a 'Hostess with the Mostess', a spokesmodel, a calendar girl, to a 'Boss Lady'. She strongly reminds all, tip your bartenders, servers, cooks, hostess…and at closing time, you ain't gotta go home, but you can't stay here.
Nowadays, she's loving radio life and can't thank you enough for supporting the Royal Ride Morning Show. And of course, for the love and support for St. Jude Children's Research Hospital. Every year we have been able to successfully support with our Country 97.5 Radiothon. It can't be done without our listeners and sponsors. After losing her own father to this terrible disease, she found hope and strength in the fight to help end childhood cancer.
So turn it up because there's not a day that can't be fixed with some good Country Music!
Join the Royal Ride Morning Show, Monday through Friday, 6am-10am, right here on Country 97.5.