June 17 & 18 • 8:30am - 5pm
8:30 AM - 5:00 PM on Saturday, June 17
8:30 AM - 5:00 PM on Sunday, June 18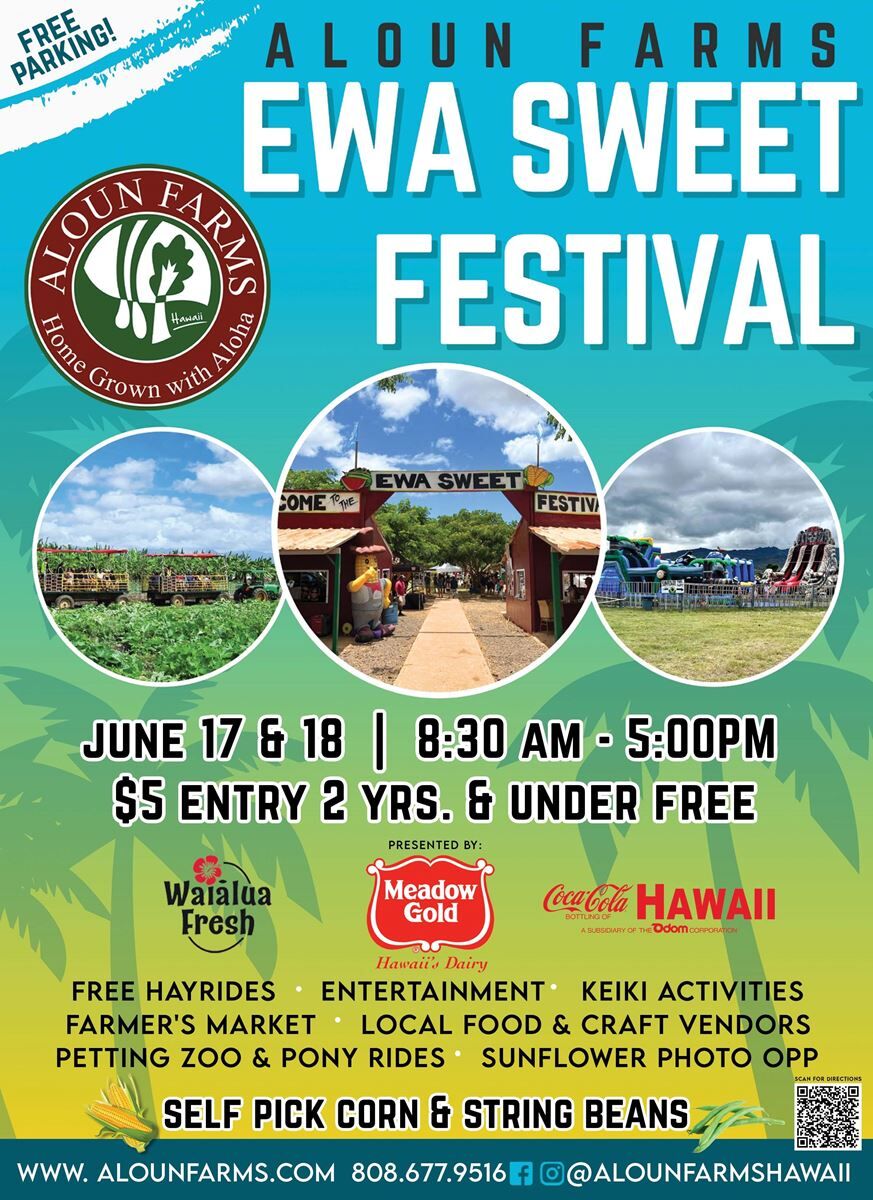 Aloun Farms Presents Second Annual 'Ewa Sweet Festival Presented by Meadow Gold Hawaii
All-Day Family-Friendly Festivities on June 17 and 18 in Kapolei!
KAPOLEI – Summer is just around the corner which means the 'Ewa Plains are ripe and ready for Aloun Farms Second Annual 'Ewa Sweet Festival presented by Meadow Gold Hawaii. The weekend-long community event will be held Saturday June 17 and Sunday June 18 from 8:30 a.m. – 5 p.m. Attendees can enjoy all-day entertainment, local food and crafts vendors, free hayrides, a petting zoo, pony rides and other keiki activities, as well as 'Ewa Sweet farmers' market, access to 10 acres of farmland and free ice cream from event sponsor, Meadow Gold Hawaii.
For the first time this year, there will also be live cooking demonstrations with Fig & Ginger Chef Yim Kwok and Waipahu High School culinary students to share recipe ideas using Aloun Farms' fresh produce. There will also be 'ohana growing workshops at the keiki garden where families can receive Aloun Farm seedlings of herbs, peppers and onion and free tips and crop care information on how to transplant them into their home gardens.
"We're excited to celebrate and share our popular 'Ewa Sweet produce with our community," said Alec Sou, Aloun Farms president and general manager. "On hot summer days, there's nothing more refreshing than our signature 'Ewa Sweet seedless watermelons or 'Ewa Sweet corn for picnics and gatherings so come and stock up while they're in season."
Aloun Farms created its bi-annual farm events as a way to provide the community with direct access to its farm-fresh produce, as well as promote the importance of sustainable agriculture and supporting local farmers. The 'Ewa Sweet Festival is the best one-stop shop for the freshest seasonal fruits and vegetables including Aloun Farms' signature 'Ewa Sweet onions, watermelons, cantaloupes and honeydew melons. Other available produce includes: cabbage, choy sum, eggplant, kabocha, Luau leaves, Shanghai Pak Choy and zucchini. Attendees can also pick their own 'Ewa sweet corn and onions, string beans and sunflowers, straight from the field. Sunflower photo opportunities are also available.
Admission is $5 per person and includes free parking. Keiki two years old and under are free. For more information visit www.alounfarms.com.

About Aloun Farms
For more than 40 years, Aloun Farms has been providing fresh, locally grown produce, direct from their farms to supermarkets throughout the state. As a local, family-run business with 160 employees, the 2,000-acre commercial farm in West O'ahu harvests signature fruits and vegetables like 'Ewa sweet onion and sweet corn, cantaloupe, honeydew melon and seedless watermelon. Aloun Farms also supports the Future Farmers of America and school-to-work programs, provides educational farm tours, and hosts community events like the annual Pumpkin Festival and 'Mahi'ai Gala high school culinary competition to strengthen and sustain Hawaii's agricultural industry.
For more information, visit www.alounfarms.com.
Location:
Aloun Farms
91-1440 Farrington Highway
Kapolei, HI 96707
Google Map
(808) 677-9516