Illness Forces Little Big Town to Cancel Shows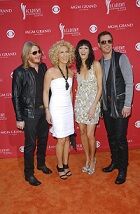 Little Big Town has been forced to cancel 13 dates on their "Pain Killer" tour due to band member Jim Westbrook's vocal problems. The band announced on their Facebook page yesterday that Jimi has to undergo vocal chord surgery next week to have a polyp removed, and won't be able to sing or talk while he recovers.
"It breaks our hearts to let you guys down, but Jimi's health is the most important thing, and he is expected to make a full recovery with rest and treatment," the band wrote. "We will keep everyone updated on Jimi's progress. Thanks for your understanding and support."
"Pain Killer" shows through July 30th have now been either canceled or rescheduled. The tour is currently expected to run through November.
Source: Billboard.com