BREAKING: Reba & Husband Are Splitting Up After 26 Years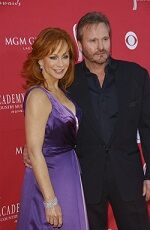 Reba's husband must hear her huge hit, "Consider Me Gone" playing over and over in his head -- after 26 years of marriage they're splitting up.
Reba and Narvel Blackstock -- who's also been her manager for 35 years -- announced they're getting separated, and have actually been apart for several months now. Sounds like it's pretty amicable though ... since they say they will continue working together.
Blackstock's management company also reps, Blake Shelton, so ... you might say there's something in the air over there.
(Source: TMZ)